Back in 2015, a call for papers went out for a forthcoming issue of the Italian philosophy journal,
Discipline Filosofiche
, with the title:
Theodor W. Adorno: Dialectical Thinking and Enigma of Truth

This appears to have been published later with the different title:
Theodor W. Adorno: Truth and Dialectical Experience

edited by Giovanni Matteucci and Stefano Marino

PRESENTATION
Beginning in the 1980s, in the midst of the grueling diatribe between analytic and continental philosophy, dialectical thought seemed mostly on the way to oblivion or, at best, destined to become the subject of philological studies. Not long after, however, it was the subject of a revival of interest which has been gradually growing. A perhaps unexpected contribution to this renewed consideration came from Anglo-American culture, thanks to the studies of contemporary philosophers such as John McDowell and Robert Brandom. Moreover, dialectic currently seems to be enjoying a certain interest also in particular fields of the socio-humanistic sciences such as, for example, in the psychotherapeutic model of "dialectical-behavioral treatment" (DBT) developed by Marsha M. Linehan. Probably in the wake of these returns of interest in places perhaps unusual for this speculative matrix, today in the philosophical debate in general we are witnessing an overall reconsideration of some classics of dialectical thought.
CONTENTS
"The Dark Side of the Truth. Nature and Natural Beauty in Adorno"
—Stefano Marino, Giovanni Matteucci
"Tell Me Lies, and Show Me Invisible Images! Adorno's Criticism on Film – Revisited"
—Josef Früchtl
"The Enigma of Experience; Art and Truth Content"
—Tom Huhn
"Form, Appearance, Testimony: Reflections On Adorno's Aesthetics"
—Giuseppe Di Giacomo
"Adorno's Reading of Endgame: Between Autonomy and Authenticity"
—Samir Gandesha
"Ratio, Mimesis, Dialectics: On Some Motifs in Theodor W. Adorno"
—Fabrizio Desideri
"Contingent Antagonism. A Key to Adorno's Dialectic"
—Giovanni Zanotti
"The Promise of the Non-Identical: Adorno's Revaluation of the Language of Philosophy"
—Paolo A. Bolaños
"What does dialectic show? Contradiction, negation and non-identity in Hegel and Adorno"
—Filippo Costantini
"Negative dialectics, metaphysics and intersubjectivity. A relational reading of Adorno"
—Giacomo Fronzi
"Criticism and deconstruction of the immediate. Adorno and Derrida before Husserl"
—Pietro Terzi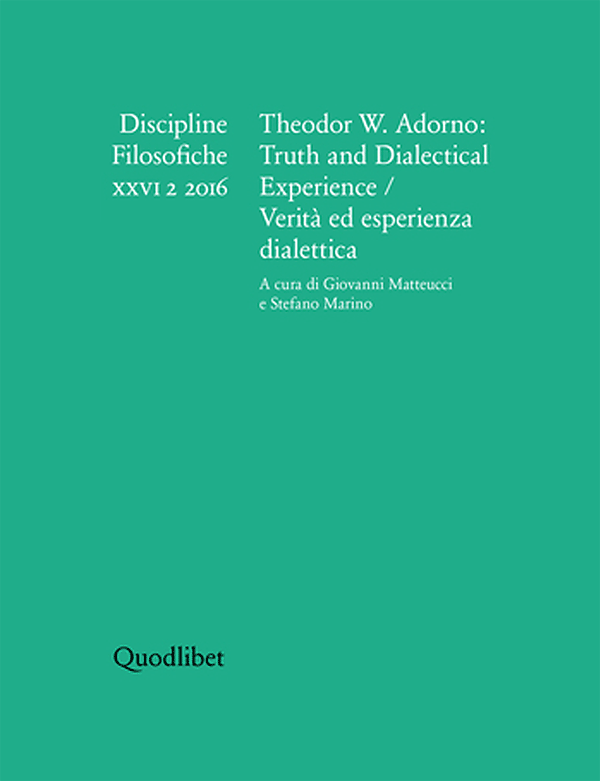 http://www.disciplinefilosofiche.it/en/ ... df-2017-1/